Our Fathers Who Aren't in Heaven
The Forgotten Christianity of Jesus, the Jew
Book Author: Anthony Buzzard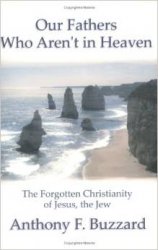 There is an impressive consensus among New Testament scholars that the Kingdom of God was the principal theme of all that Jesus taught. The Gospel about the Kingdom of God is actually the New Testament name for the Christian Message of salvation. Yet today we hear little or nothing in public evangelism about the Gospel of the Kingdom. Jesus has been divorced from his own Gospel.
Anthony Buzzard contends that traditional Christianity has lost its grip on the Messianism of the Bible -- that Jewish theme which Gentiles found, and still find, unfamiliar. If the various denominations are to find unity in a common belief in the Bible, it will have to be by a return to the Messianic Jesus and His Kingdom Gospel. No theme could be more heartening in our distracted world than the hope of a better world coming on earth when Jesus returns to take over the reins of world government.
Subtle forces from the world of pagan philosophy have worked to make basic apostolic teachings unclear to the churchgoing public. The Bible read in its own Hebrew, Messianic context comes alive as a thrilling document inspiring hope for a resolution of all the world's problems and offering frail humans the prospect of living not only for a thousand years, but forever.
---